Africa's summer of strikes
(Read article summary)
Many wonder if the Arab Spring will reach Africa, but what people should really be watching is the spread of strikes across the continent in response to rising costs, inequality, and government dissatisfaction.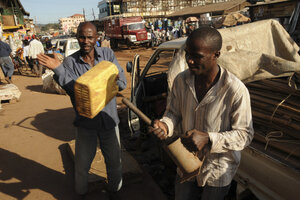 Stephen Wandera/AP
In recent months, there's been a lot of talk about whether the "Arab spring" would spread to sub-Saharan Africa. In some ways, it did – there were serious protests in Burkina Faso, Senegal, Uganda, and elsewhere, and the Arab spring inspired a number of activists to question the legitimacy of incumbents. In some days, it did not – no leaders have (yet) fallen, and no pan-African, anti-incumbent wave has (yet) reshaped the politics of the whole continent.
Now it's summer, and I'm wondering whether it's time to start talking about a wave of strikes, rather than a wave of protests. Although many African economies are experiencing rapid growth, problems like rising food and fuel costs, economic inequality, and dissatisfaction with government taxes and other policies are driving workers to shut down businesses and take to the streets.
Last week, I wrote about strikes in Uganda by traders and taxi drivers (teachers have since threatened to strike as well). This week, Nigerian workers are preparing anational strike from Wednesday to Friday over a non-implemented minimum wage increase – though a last-minute promise by governors to pay the wage may avert the strike.
---