Doha agreement could actually worsen chances for peace in Darfur
(Read article summary)
Guest blogger Laura Jones from the Enough Project writes that the Doha peace process in Darfur is more a fig leaf for the Sudanese government than genuine progress.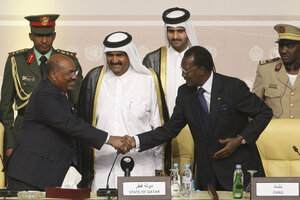 Reuters
Late last week, the Sudanese government and the Liberty and Justice Movement, or LJM, agreed to adopt the Doha Document for Peace in Darfur, as well as a separate protocol on LJM's political participation and the integration of its limited forces into the national army. While the signing of these documents could in many ways be considered progress, there is little hope that they will lead to any sort of comprehensive and sustainable peace for Darfur.
There have been numerous indications that the results of Doha will, in fact, be little more than a blip on the radar screen, particularly for those still in Darfur. The first and most frequently discussed flaw is the lack of inclusion of key rebel groups in the agreement, including the Justice and Equality Movement, or JEM, and the factions of the Sudan Liberation Army, SLA-Minni Minnawi and SLA-Abdel Wahid. These groups are still engaged in military operations on the ground while the Sudanese Armed Forces continue to aerial bomb their suspected locations. Further, unlike these other groups, LJM was in many ways the creation of international mediators involved in the Doha process keen on unifying the many rebel factions in Darfur into a single entity that would negotiate with the government on behalf of the people of Darfur. The real result was a rebel group with limited political or military influence on the ground and little support from Darfuris. The All Darfur Stakeholder Conference which was meant to gain popular support for the LJM-negotiated agreement was itself defective in that participation was in many respects controlled and those present at the conference never actually reviewed the document. The ability of LJM to actually assist in the attainment of peace in the region is therefore highly in doubt.
---