Guinea's president survives rocket attack, appeals for calm
(Read article summary)
While the identity and motives of the attackers are not clear, Tuesday's attack on the presidential palace comes at a fragile time for a country still reconciling after fractious December elections and a coup d'état.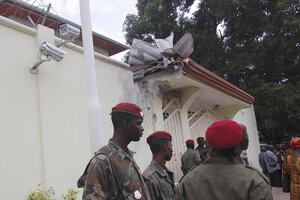 Reuters
Johannesburg, South Africa
A rocket attack on the presidential palace in Conakry, Guinea, suggests that Guinea's transition to democratic rule remains fragile.
Guinea's President Alpha Conde, who survived the two-hour attack, praised his presidential guard for repelling the attackers , whose identities remain unknown. Mr. Conde was elected in December 2010, after a military junta voluntarily stepped down from power after a year of military rule.
Guinea – the world's largest supplier of bauxite aluminum ore – has been largely ruled by civilian authoritarian rulers since independence from French colonial rule in 1958. When the last of these civilian despots, Lasana Conte, died on Dec. 23, 2008, military rebels led by Capt. Dadis Camara led a coup that was initially welcomed by Guineans, until it became clear that Camara intended to stay in power.
Camara agreed to hand over power to civilian authorities after surviving an attack from his own aide-de-camp on Dec. 3, 2009.
President Conde spoke to the nation in a television address Tuesday night. "My house was attacked last night but I congratulate the presidential guard who fought heroically from 0310 until 0500 [GMT] before backup arrived," he said. "Our enemies can try everything, but they cannot prevent the Guinean people's march towards democracy. Democracy has begun and it will continue, I promised you change and, God willing, change will happen."
---