West Africa Rising: Ghana looks to fix its floundering fisheries
(Read article summary)
The World Bank plans to pump $53 million into Ghana's fisheries industry, which employs 2.2 million people, to reverse a decade-long downturn.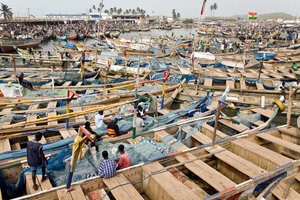 Alida Latham Danita Delimont Photography/Newscom/File
• West Africa Rising is a weekly look at business, investment, and development trends.
Fishing may be one of the oldest and most traditional ways of making a living, but several West African countries are hoping to boost their economies with new investment into modernizing their fisheries sectors.
In Ghana, one of the richest countries in the region, the fisheries industry is about to get a jump start. Earlier this month, the directors of the World Bank approved a project that will pump $53 million into the fisheries sector over the next six years. The initiative aims to overhaul an industry that supports nearly a tenth of Ghana's population but that has been in decline over the past decade.
Ghana produces more than 400,000 tons of fish each year, but production levels have begun to shrink, the World Bank said in a report released in June, because the fish stocks off of Ghana's coast have been "heavily overexploited."
"As a result of the decreasing profitability of Ghana's fisheries, the 2.2 million people reliant on the sector for their livelihoods… are getting steadily poorer," the World Bank said in the report. The average income of the country's small-scale fishers has fallen by as much as 40 percent over the last ten years, even as incomes in the country's timber- and cocoa-producing regions have swelled.
---