Nigerian government broaches idea of dialogue with Islamist Boko Haram
(Read article summary)
Force has not quelled Nigeria's Islamist group Boko Haram, which has claimed responsibility for many terror attacks in the north. Now Nigeria's government is offering talks.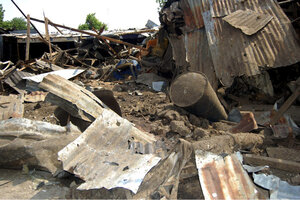 Reuters
Since at least May, certain Northern Nigerian politicians have been considering the idea of an amnesty program for Boko Haram, the Muslim movement whose violence has terrorized the Northeast and spread fear throughout much of the country. Proponents of amnesty feel that the problem of Boko Haram will ultimately require a political, and not just a military, solution. President Goodluck Jonathan, for his part, has expressed openness to the idea of amnesty or at least some form of dialogue, and has spoken of a "carrots and sticks" approach to Boko Haram. The sect has so far rejected amnesty offers, responding either with huge demands or with further acts of violence.
On Saturday, the Federal Government announced it is taking concrete steps toward initiating dialogue with the movement:
[A] panel will negotiate with the Boko Haram sect and report back to the government on or before August 16, the statement from the office of the secretary of the federal government said.

President Goodluck Jonathan has named the seven members of the panel, including the ministers of defence and labour as well as the minister of the Federal Capital Territory, which encompasses Abuja, the statement added.

Describing the panel's duties, it said they would include acting "as a liaison between the federal government … and Boko Haram and to initiate negotiations with the sect."

It would also work with the national security adviser to ensure the country's security forces were acting with "professionalism," the statement said.
I was unable to find the original copy of the statement, and so I cannot tell whether Boko Haram has agreed to talks.
---