Opinion: US policy on Congo conflict minerals well-intentioned, but misguided
(Read article summary)
An NGO worker in Congo says of the Dodd-Frank legislation: 'The motivation behind the law is very good – to impose transparency. But the implementation has been the problem.'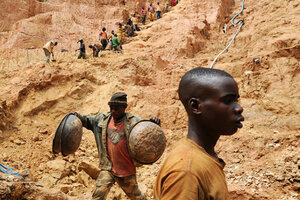 Lionel Healing/AFP/Getty/Newscom
The following is an interview with Eric Kajemba, founder and director of Observatoire Gouvernance et Paix (OGP), a civil society NGO based in Bukavu. Eric's work is focused on improving the accountability of government institutions and has worked extensively on the minerals trade.
Q: What has been your analysis of the export ban on minerals [imposed by the Congolese government between September 2010 and March 2011] and the Dodd-Frank legislation in the US?
In general, these two things are linked. The export ban came as a consequence of the Dodd-Frank law. The government was thinking it had to do something in reaction to the US legislation, so it suspended exports of minerals from the eastern Congo. This has had a very negative impact on the local population. One problem we had was that exporters were stuck with their stock and couldn't get rid of it. Secondly, the negociants [trade middlemen] usually work on credits, but they weren't able to pay their arrears, so they had to mortgage their houses. In sum, the artisanal mining sector employed many, many people - these people lost their jobs over night. Also, many of them were demobilized soldiers, so this had the added effect of producing insecurity.
But the Dodd-Frank legislation did not explicitly require an export ban.
No. But the government was supposed to render transparent the chain in order to comply with the law. This had perverse consequences. The army kicked diggers out of the mines, only to become diggers themselves! That happened in many mines. The army just took over.
But how did they export the minerals if there was an export ban?
There was fraud. Even today with the embargo, people export. Fraud has increased considerably.
---