Why aren't African leaders giving more for famine relief?
(Read article summary)
African leaders talk often of 'African solutions for African problems,' but the paltry $70 million pledged at an AU famine-relief conference raises questions whether this mantra is just rhetoric.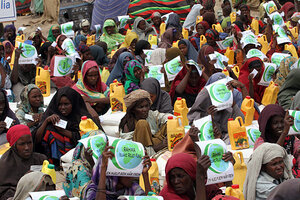 Omar Faruk/Reuters
Only four heads of state – presidents of Somalia, Djibouti, Equitatorial Guinea, and Ethiopia's prime minister – were present at the African Union's much-delayed pledging conference on the Horn of Africa crisis. In a statement, the AU said it raised more than $378 million, $20 million of which was in-kind.
Jerry Rawlings, former president of Ghana, hailed the conference as message to the world that "we are not incapable of supporting our own."
The need for Africa to take charge of its own future – summed up in the mantra "African solutions for African problems" – has become a unifying call for African leaders these days, and a rebuke to richer Western nations to butt out. South Africa is among the most vocal of those African nations pushing for African-led solutions, and the most critical of Western intervention, from Ivory Coast to Libya.
---