As Qaddafi's supporters flee, Libya fallout could impact Darfur
(Read article summary)
A key Darfuri rebel commander who took refuge in Libya is now back in the region. His return could destabilize an uneasy peace between the rebels and the governments of Sudan and Chad.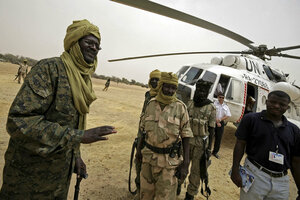 Stuart Price/Reuters
As observers assess the fallout from Libya's civil war, a lot of eyes are on Niger, where some of ousted leader Col. Muammar Qaddafi's lieutenants (and family) have fled. But the war in Libya will have fallout for Sudan too. A major rebel commander who had taken refuge in Libya, Khalil Ibrahim of the Justice and Equality Movement (JEM), has now returned to Darfur:
JEM – the biggest rebel group in Darfur – signed a ceasefire with the Sudanese government in February 2010 but abandoned peace talks soon after, accusing Khartoum's forces of launching new raids in Darfur.

Col Gaddafi's fall in Tripoli is a blow to the rebels as he gave them sanctuary and financial and military aid, analysts say.

Mr. Ibrahim was exiled in Libya since May 2010 after Chad – said to be another major backers of the rebels – refused to give him refuge following a peace deal with the Sudanese government.
Sudan Tribune has more.
---