Has the UN Congo mission tried too hard to be impartial?
(Read article summary)
In its efforts to improve its relationship with the Congolese government, the UN mission in Congo has not stepped in to address abuses during the voter registration process.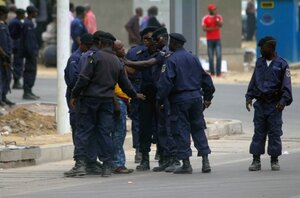 John Bompengo/AP
With elections approaching in the Congo, it is worthwhile reflecting on the role of the international community in the process. Since the beginning, it has been clear that foreign partners would play a more marginal role than in the 2006 polls. Then, as the country was coming out of a war, donors financed 90 percent of the elections budget – this time, the Congolese government is shouldering 60 percent of the burden. MONUSCO, the guarantor of the peace process, is now dealing with a sovereign, democratically elected government.
This, however, hasn't stopped many analysts – myself included – from pushing for greater involvement and pressure. Following the rushed constitutional reform that radically altered the electoral process – from a two-round majority-win to a one-round plurality-win poll for the president – there was little protest from diplomats, who suggested that these were internal matters of a sovereignly-elected government. I have some sympathy for this, for as much as the constitutional change was opportunistic and rammed through parliament in a hurry, on the face of it, the revision passed (more or less) legally.
Where I am less sympathetic is regarding the voter registration. What little observation has been carried out suggests that there may have been significant flaws in this process – children, foreigners and "ghosts" (fictitious voters) registered, and we know from election officials that there are people who have registered numerous times in different offices (one observer mentioned one man registering eleven times). The problem is, because the political opposition (and to a certain degree, civil society) was not really present to monitor the process, we don't know how widespread this abuse was. Could it compromise the presidential election? What about the legislative elections? Difficult to say.
---