Sudanese government cracks down on remaining southern sympathizers
(Read article summary)
Despite hopes of pluralism, Sudan's government is cracking down on Sudan People's Liberation Movement members who stayed behind when South Sudan seceded.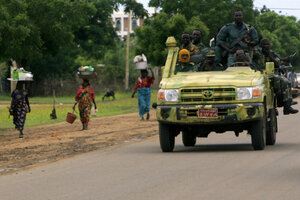 Mohamed Nureldin Abdallah/Reuters
This spring, as Sudan prepared for the secession of its southern region, the Sudan People's Liberation Movement (SPLM) also prepared for a division. The main SPLM would continue as the ruling party in the new South Sudan, but the party's northern supporters would also continue, as SPLM-N, to fight for their vision of a more pluralistic political climate in (North) Sudan. In March, SPLM-N leaders visiting Washington expressed their hopes and ambitions for remaking Sudan, but also warned of the possibility of conflict, especially in the states of Blue Nile and South Kordofan, which would lie on the new border between Sudan and South Sudan.
Conflict, rather than pluralism, has been the outcome in Sudan. In May, a gubernatorial election in South Kordofan saw the victory of Ahmed Haroun, a member of Sudan's ruling National Congress Party (NCP). The SPLM-N's rejection of this result helped spark intermittent violence in the state, including a military deployment by the regime on the eve of Southern Sudanese independence. Matters deteriorated further with the outbreak of fighting in Blue Nile State, the only Northern state with an SPLM-N governor, Malik Agar. On Sept. 2, President Omar al Bashir dismissed Agar and has since replaced him with a series of generals. On Sept. 16, the regime suspended the SPLM-N along with 16 other parties with alleged links to South Sudan. And just two days ago, three SPLM-N MPs from South Kordofan resigned. SPLM-N leaders in both South Kordofan and Blue Nile are now effectively operating as rebels, and the fighting is fierce.
---