Aid delivery remains a central obstacle in Somalia's famine
(Read article summary)
Somalia specialist Ken Menkhaus told the Enough Project that the international community needs to pressure Al Shabab and the Somali government to open up aid delivery routes.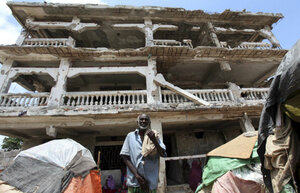 Feisal Omar/Reuters
In the damp, gray dawn in this remote Somali bush town, 25,000 men, women and children, their rib cages protruding, their eyes listless, shuffled with their last bit of strength today toward outdoor kitchens for a scoop of food. Hundreds, too feeble to eat, died while they waited. […]

"Here is hell," said Mr. [Geoff] Loane [of the Red Cross], who worked in Ethiopia during the 1984-85 famine. "I thought I would never see Ethiopia again, and I didn't think we would allow it to happen again."
But Mr. Loane made that exasperated remark to The New York Times in 1992. And it has happened again.
A Google search for "Somalia famine" turns up a host of articles from the past 20 years about recurring periods of drought and devastation unfolding in the Horn of Africa. They have taken place with such frequency and little variation in details that it is a wonder how often disaster relief is discussed with little or no reference to root causes.
But the epic proportions of the 2011 Somalia famine should force a conversation, argues longtime Somalia specialist Ken Menkhaus, beginning with a focus on how the political actors largely responsible for the country's dysfunction are now blocking aid delivery as well.
---