China's bidding: Should South Africa issue a visa to the Dalai Lama?
(Read article summary)
South Africa's delay in issuing a visa to the Dalai Lama – scheduled to attend the 80th birthday bash of fellow Nobel Laureate Desmond Tutu – has created a controversy over China's growing influence.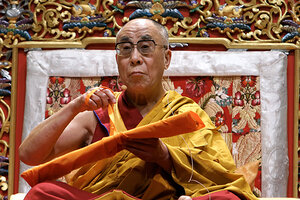 Bob Edme/AP
In the world of diplomacy, the question of whether to allow a Nobel-Prize-winning Buddhist monk to visit one's country is generally not controversial.
But for South Africa – which is carrying out a major state visit to China and has just signed a deal for $2.5 billion in Chinese investment in South Africa – the question of whether to allow the Dalai Lama into South Africa to participate in fellow Nobel laureate Archbishop Desmond Tutu's 80th birthday celebrations has become a matter of embarrassment. For critics of South Africa's government, it's become a sign of South African subservience to China.
On Tuesday, South Africa's spokesman on foreign affairs issues, Clayson Monyela, said that the South African high commission in New Delhi has begun processing the Tibetan Buddhist leader's visa application after a lengthy delay. Mr. Monyela said that all outstanding documents required by the South African government had now been submitted.
Archbishop Tutu's birthday bash is scheduled for early October.
China's $2.5 billion investment deal
---