A South African visa for the Dalai Lama? Not as simple as it sounds.
(Read article summary)
South Africa made the choice most in its national interest in not granting a visa to the Dalai Lama, a decision that risked angering China, a major partner, argues guest blogger Zama Ndlovu.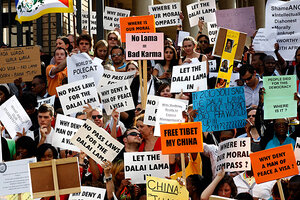 Siphiwe Sibeko/Reuters
Johannesburg, South Africa
When Archbishop Desmond Tutu's BFF received a big fat "NOT YES" from the South African government, the Arch took the (in)decision rather personally. Fortunately for our Tutu, we South Africans, having a flair for dramatic tendencies, dichotomized and moralized the issue into good vs evil, with the country's integrity and pearly gate invite hanging in balance. We judged our government for its "disgraceful", "shameful" stance against human rights and all that good stuff. Collectively we decided that the foreign affairs visa application queue is as good as any place to decide on our foreign policy, just as the ministry of international relations and cooperation had spontaneously made up two contradicting policies on Libya within one week, a few months ago. Maybe it's time the South African government define a clear and predictable foreign policy and communicate it?
It's really cute that we thought this visa business to be a black and white issue, our favorite colors. One was either for morals or for immoral investment. Although not too eager to point our government towards world economies with money so clean it could be presented with 70 virgins dressed in white, we spotted the evil investments. Mind you, the South African jury is still out on the morality of foreign direct investment, since just last week the nationalisation discussion was "negatively affecting foreign investments."
Furthermore we immediately limited the terms of reference for the discussion, shying away from the broader socio-economic impacts of the effect of these dirty investments. This was a question of how the world would look at us and our morality, and not all about putting at risk much-needed direct investment in such economically turbulent times.
---