Kenya sends troops into Somalia in major policy shift
(Read article summary)
Kenya's military intervention into neighboring Somalia follows a string of kidnappings on Kenyan soil by Somali pirates and terrorist threats by Al Shabab, an Islamist militant group linked to Al Qaeda.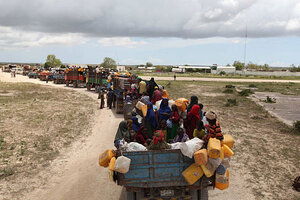 Feisal Omar/Reuters
Kenya has reportedly sent its troops into Somali territory, after announcing to reporters this weekend that it intends to pursue militant groups launching attacks onto Kenyan soil.
The military intervention marks an immense shift in policy for Kenya, a country that has never sent its troops to fight in another country's territory since independence in 1963.
The military action into Somali territory – confirmed by Kenyan spokesman Alfred Mutua on Sunday – follows the three separate kidnapping and murder attacks on Western tourists and Western aid workers over the past month, and repeated threats by the Somali-based Islamist militia Al Shabab to attack African countries like Kenya and Uganda, which support Shabab's enemy, the fragile Somali government in the Somali capital of Mogadishu.
"For the first time our country is threatened with the most serious level of terrorism," said Minister of Internal Security George Saitoti at a press conference on Saturday.
"If you are attacked by an enemy, you have the right to pursue that enemy right where he is," Kenyan Defense Minister Yusuf Haji told reporters.
Risky move for Kenya
---