What are Kenya's long-term goals in Somalia?
(Read article summary)
Answer: Kenya is making inroads against Al Shabab. But Kenya's long-term aim is unclear.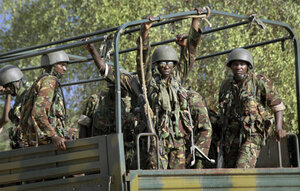 AP
As I noted last week, many observers feel pessimistic about the long-term prospects of Kenya's invasion of southern Somalia. In the short term, however, Kenya is making gains against Al Shabab, the Muslim rebel force that operates in the region.
Fierce fighting is expected this week in the towns of Afmadow (see this map, and more reporting here) and Kismayo, (map). Kenyan planes bombed Kismayo this weekend. Taking these towns would deprive al Shabab of some of its key remaining strongholds, and could push the rebels into more remote areas.
---