Africa Rising: Starting a business? Look south of the Sahara.
(Read article summary)
The latest Ease of Doing Business Index found the vast majority of sub-Saharan countries have improved their business environments in the past year, and six made the top 15 most improved.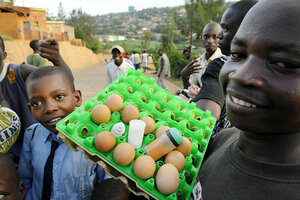 Mary Knox Merrill/Staff/File
• Africa Rising is a weekly look at business, investment, and development trends.
Entrepreneurs, listen up: Sub-Saharan Africa isn't such a bad place to open up shop these days, thanks to legal and regulatory reforms that have made life easier for businesses in many parts of the continent.
The recent improvements have been totted up in the latest Ease of Doing Business Index, a set of rankings published each year by the World Bank and the International Finance Corporation. Taking into account factors like how many days it takes to set up a new company and how much it costs to get a shipping container through a port, the index serves as a global guide to business friendliness.
"Economic activity requires good rules – rules that establish and clarify property rights and reduce the cost of resolving disputes," Janamitra Devan, the World Bank's vice president of Financial and Private Sector Development, wrote in the report's preface. "The objective is regulations designed to be efficient, accessible to all and simple in their implementation."
Sub-Saharan Africa has a reputation for weak legal institutions and lax property rights, but the region has made some huge strides, as this year's index shows.
Thirty-six of the region's 46 economies have improved their business environments in the past year, the report found. That's a five-year record for the region, and it means that sub-Saharan Africa has made more progress than any other part of the world except Eastern Europe in making life easier for businesses.
---