Senegal's President Wade nervous about reelection prospects
(Read article summary)
Senegal's President Wade, up for reelection, faces growing unpopularity and unemployment, but the opposition is divided enough that he could still succeed.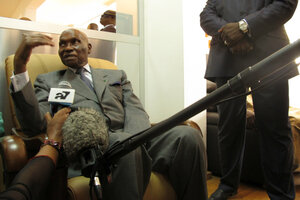 Rukmini Callimachi/AP
Senegal's presidential elections are about three and a half months away, and it seems President Abdoulaye Wade is feeling nervous about his re-election prospects.
Senegal's President Abdoulaye Wade late on Wednesday offered two key rivals cabinet jobs in exchange for working with him in the run up to elections in February, but both men's parties immediately rejected the offer.

The octogenarian president is seeking re-election despite rivals saying he should be barred from taking part, and tensions are escalating steadily in a country that has already seen violent protests over the vote.

Speaking on state television, Wade offered Ousmane Tanor Dieng and Moustapha Niasse, leading figures in the opposition Benno Siggil Senegal coalition, jobs as ministers of state "with all the benefits" that come with the job.

"But I clarify that this is not at all a government of national unity," he said.

"When you hit an impasse you have to stop and think. It would be useful for the opposition today to join me for the rest of my mandate so we can … work together," he said, before adding that he was sure of winning re-election.
It is significant that Wade chose these two figures, both of whom are relatively older politicians from the Parti Socialiste and its offshoots, and did not offer posts to Idrissa Seck and Macky Sall, both of whom are younger, are former Wade proteges, and are serious contenders for the presidency. By only selecting some of his rivals, and by excepting two of the strongest candidates, Wade appears to be trying to divide the opposition rather than co-opt all of it.
---