The LRA and the most popular Africa legislation in recent US history
(Read article summary)
US Congress passed legislation in 2010 aimed at bringing an end to the Lord's Resistance Army. What is the status of that effort?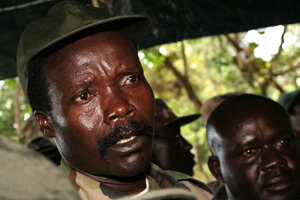 Stuart Price/AP
Editor's Note: This post is a brief history, intended to provide a contextual background for understanding the complex issues that the Enough Project works on. It is part of the series Enough 101.
In May 2010 after intense pressure by U.S. based activist groups, the US Congress passed legislation aimed at ending the Lord's Resistance Army crisis— the "LRA Disarmament and Northern Uganda Recovery Act," the most widely supported Africa-specific legislation in recent congressional history. As required by the legislation, President Obama submitted the "Strategy to Support the Disarmament of the LRA" on Nov. 24, 2010. The strategy outlines actions in support of the following four strategic objectives:
Increase civilian protection;
Apprehend or remove from the battlefield LRA leader Joseph Kony and his senior commanders;
Promote the defection, disarmament, demobilization, and reintegration of LRA fighters;
Increase humanitarian access and provide continued relief to LRA-affected communities.
However, implementation of the strategy by the Obama administration has been slow and continued pressure is necessary.
Today, the LRA has changed drastically since its inception almost 25 years ago. The force is now splintered in many small groups operating hundreds of miles from one another, and as Ugandans defect or are killed the LRA replenishes with Congolese, Central African, and Sudanese fighters. In addition, it is generally fear rather than ideology that keeps Ugandan and foreign fighters in the LRA today, according to interviews with fighters who have defected or escaped.
---