Sahel grapples with food insecurity
(Read article summary)
There are major food production shortfalls across the Sahel – the band of countries south of the Sahara – that will jeopardize food availability next year.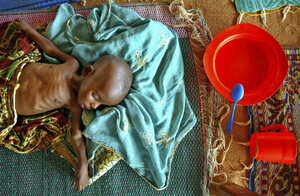 Finbarr O'Reilly/Reuters
The Sahel gets a lot of attention for its security issues, but droughts and food shortages loom much larger in the lives of ordinary people than terrorism does. On Friday the European Commission boosted its food aid to the region by 10 million euros. This announcement calls attention to the scale of the problem:
Seven million people are already facing shortages in Niger, Chad, Mali, Mauritania, Nigeria and Burkina Faso, with major shortfalls in food production in many areas. The figures point to a massive problem of food availability next year.

[...]

The poor 2011/2012 agro-pastoral season in the Sahel, with erratic rainfall followed by localized dry spells, is causing massive concern. Increased world market prices for rice will also have a negative impact on rice import levels and on prices in West Africa. As a consequence many of the poorest households will be unable to access adequate food and will fall rapidly into crisis…Niger and Mauritania have already declared a crisis, prepared national action plans and appealed for international assistance.
The UN gives more detail on the situation in Niger:
The majority of villages in impoverished Niger are now considered to be in a food and nutritional crisis, the United Nations humanitarian wing warned today, with the country facing especially tough times as the annual harvest season ends.
---