Congo election: Voters in the Kivu provinces worry about Congo after Kabila
(Read article summary)
In North and South Kivu provinces, voters are worried about possible regional outcomes, including secession, if incumbent President Joseph Kabila is not reelected.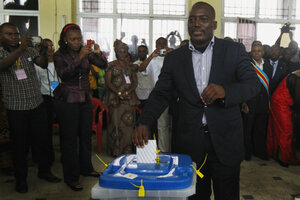 Jerome Delay/AP
Goma, Democratic Republic of Congo
Editor's note: This post was originally published on Enough Said on Nov. 25.
The election scheduled for next Monday is only the second time that the Congolese will choose their leader by universal suffrage. As the voting date approaches, people are getting increasingly worried about what will happen after the election results are announced in early December. Will the candidates accept the outcome? Will their supporters? These questions are especially important for Congo's restive East.
In conflict-prone North and South Kivu provinces, fear of a scenario in which Joseph Kabila is not reelected as president is growing. Rumors abound that without Kabila as the head of state, the Tutsi-based National Congress for the Defense of the People, or CNDP, might attempt secession and declare independence for the two Kivu provinces. The Rwanda-supported CNDP was previously the strongest armed group the government had to reckon with in North Kivu – that is, until early 2009, when the government signed a peace deal that integrated the rebel group into the national army and transformed it into a political party. Since then, the CNDP has been able to dominate Congo's military structure in the East, where few units are loyal to the government, and to establish de facto control over most of North and South Kivu. Until forced out of mining sites as a result of the restructuring of the military this year, they controlled most of Kivus' major mines and mineral routes.
It is widely believed that these concessions were given by Kabila to ensure the CNDP would not return to the bush to fight the government. But the CNDP could lose its privileged position in the Kivus if President Kabila is not elected again. Kabila's main contender, Etienne Tshisekedi, has already claimed he would throw out all "Rwandans and their sympathizers." He insinuated the current president was among them, and no one doubts the classification includes the CNDP as well.
---