Eastern Congo braces for election results
(Read article summary)
Guest blogger Laura Heaton writes that vote tallies indicate incumbent President Joseph Kabila remains the frontrunner, but there is a chance of violence if Kabila is declared the winner.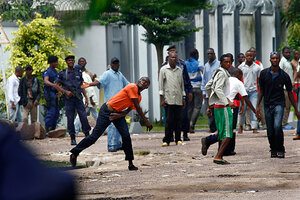 Jerome Delay/AP
UPDATE: On Dec. 6, the Associated Press reported that Congo's national electoral commission has announced a 48-hour delay in publishing final presidential election results, due to technical difficulties. Final results are expected on Thursday night.
With the announcement of Congo's next president expected before midnight tonight, though possibly delayed, the restive eastern part of the country is quiet but wary about what tomorrow might bring. Early vote tallies predicted President Joseph Kabila as the winner, with UDPS candidate Etienne Tshisekedi as a close second, but the electoral commission today announced that with more than two-thirds of the ballots counted, Kabila had pulled ahead with 46 percent of the vote, to Tshisekedi's 36 percent. Despite widespread allegations of rigging and logistical constraints that denied many eligible citizens the right to vote, international observation missions have blessed the process. The stage seems set for Kabila to be declared winner of another five-year term.
According to the preliminary count by the national electoral commission, tallied by province, Kabila is leading in both North and South Kivu but doesn't carry a majority in either province. But unlike in other parts of the country, a Kabila victory will likely cause greater calm in the East than any other electoral outcome.
---