Latest leader to redefine term limits: Senegal's President Wade
(Read article summary)
Protesters in Senegal have been pressing President Wade to drop his bid for a third term. Now other nations are voicing concerns too.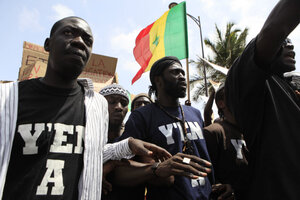 Rebecca Blackwell/AP
Senegal will hold presidential elections on February 26, pitting incumbent President Abdoulaye Wade against an emboldened but divided opposition. The elections could be quite bitterly contested. On Friday, Wade officially accepted the nomination of his party, but both inside and outside the country, his candidacy is provoking condemnation. Critics argue that the president, who is nearing the end of his second term, should not run again; Wade argues that because two-term limits for the presidency were introduced only after his first term began, he is eligible for one more term. I do not anticipate that any legal obstacle – including a ruling by the country's courts – will prevent Wade from running, but the level of domestic and international outcry is significant. Senegal is not headed for chaos, in my view, but the country's stability could be shaken in the months to come.
AFP (see link above) gives us a glimpse of how the domestic opposition to Wade is unfolding. Protests against his rule have been going on since last winter, feeding into broader discontent concerning economic stagnation in the country.
Thousands of opponents headed to a square in Dakar on Friday after Wade's candidacy was announced. Demonstrators held signs bearing slogans such as: "Against Violation of the Constitution," "Wade Go Away" and "Rise Up Against the High Cost of Living!"

The rally was organised by the June 23 Movement (M23), a coalition of activists and political groups named after summer riots protesting proposed election law changes.
AFP also reports clashes between Wade's supporters and opponents in Dakar last week. Violence has not been a major part of the political landscape in Senegal in 2011, so it is concerning to hear this.
---