Oh snap! Bungee jumper plunges into Zambezi River at Victoria Falls
(Read article summary)
The Australian survived, but tourists who assume that extreme venues in Africa are safe may be fooling themselves.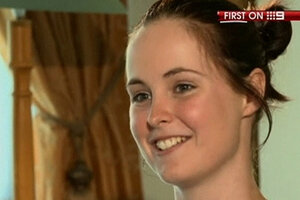 Nine Network/Reuters
Jumping from a bridge down toward a river filled with crocodiles – what could possibly go wrong?
A lot, apparently.
On Dec. 31, Australian tourist Erin Langworthy became one of thousands of people to try bungee-jumping off the bridge that connects Zimbabwe and Zambia, within sight of the tourist mecca Victoria Falls. It's 364 meters of sheer gravitational pleasure, followed by a gut-wrenching jerk just feet above the rapids below. The only problem, for Ms. Langworthy, is that her bungee cord broke and she fell into the Zambezi, which, in its quieter areas, is infested with crocodiles.
"I think it is definitely a miracle that I survived," Langworthy, an Australian student, told Australia's Channel Nine in an interview. She says that she lost consciousness on impact, and "I felt like I'd been slapped all over," but as she went deeper into the river, the cold water snapped her back into consciousness.
It's easy to criticize tourists for jumping off bridges. There is, as Disney says, a circle of life.
Bungee-jumping – a New Zealand innovation in the area of extreme sports – has been available at this particular spot for more than a decade, and has drawn more than 50,000 tourists each year, providing needed revenue to both the Zimbabwean and Zambian economies. Perhaps fearing that some bad publicity could end the good times, Zambia's tourism minister, Given Lubinda, assured prospective tourists that the bungee-jumping is, generally speaking, perfectly safe.
---