Why Nigerians are in an 'occupy' mood (+video)
(Read article summary)
It would be unacceptable to citizens anywhere if the price of gasoline doubled overnight without warning, argues guest blogger Jeremy Weate.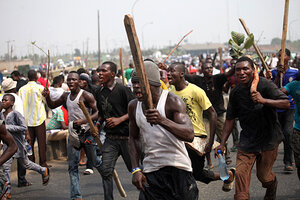 Akintunde Akinleye/Reuters
On the first day of the indefinite general strike organized by a coalition of unions and social media-based activists, some external observers have expressed surprise at the intensity of resistance the "Occupy Nigeria" campaign has mounted against the removal of a fuel subsidy. From an outside perspective, it might seem like a dust-devil has been whipped up without reason in the desert. In case there's still any confusion, allow me to explain why there is so much anger and resistance.
The answer begins with a question: Would it be acceptable to citizens of affluent countries that the price of gasoline doubles overnight without any warning?
While Jeffrey Sachs may have his own view, the lived reality of citizens of the Nigerian state is that it provides little or no security, no infrastructure, no education, and no employment opportunities (apart from mostly McJobs in the civil service). Everywhere in Nigeria, the basic elements of civilized existence have to be taken care of house-by-house, compound-by-compound. You must sink your own borehole for water, buy, install, and fuel a generator for power, hire security guards to keep the wolves from the door, pay school fees to ensure your kids get a half-decent education because the public school system is in perpetual meltdown. And to earn enough money to get through the day, you must hustle.
The breakdown of a Nigerian social contract between citizens and the state is almost entirely a result of the past few decades of the so-called "resource curse." Earning billions of dollars each year from crude exports, the Nigerian government has no need to rely on taxes from individuals or local companies; tax and royalty payments from the international oil companies (as well as historically, loans from international financial institutions) have been sufficient to fund the annual budget at all levels of government.
---