Note of caution on the International Criminal Court trials in Kenya
(Read article summary)
New report highlights potentially destabilizing impact of ICC trials related to 2007 Kenyan election violence.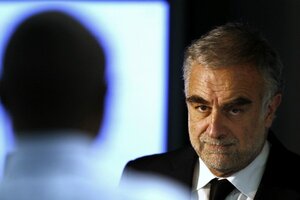 Jerry Lampen/Reuters/File
The International Criminal Court (ICC) is currently holding trials for six Kenyans accused of fomenting ethnic violence following Kenya's 2007 elections. Several of the "Ocampo Six" (so named because of the ICC's Chief Prosecutor Luis Moreno Ocampo) are prominent politicians, and two – Uhuru Kenyatta and William Ruto – are candidates in the presidential elections scheduled for this December. The case has already caused major controversy in Kenya, and has the potential to significantly affect the campaign this year – which includes stoking ethnic tensions. Whether the ICC likes it or not, by virtue of its work it is a political actor. In the case of the Ocampo Six, the politics of the ICC's action feel wrong to me, at least as far as peace in Kenya is concerned.
The International Crisis Group (ICG), an organization I very much respect, has put out a thoughtful report sounding a note of caution about the case and its potential impact. Three key sentences from the report read:
---