President backs down on fuel price increases, but it is still winter in Nigeria
(Read article summary)
Nigeria's government reimposed fuel subsidies after massive protests. But initial decision raises questions about government's moral or political credibility over calls for austerity.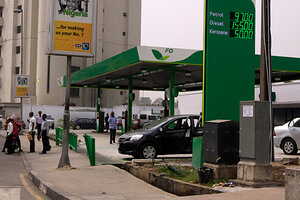 Sunday Alamba/AP
My wife, Chizo, from the Nigerian city of Port Harcourt, went to Moneygram this morning. She sent money to her brother, a front-line oil worker, who is the mainstay of the domestic economy of her extended family. Because of the strikes in Nigeria, her brother isn't working — and isn't earning. He does have savings, but no ATM card, and his bank isn't open. The bank's workers seem to be on strike. Meanwhile, prices are soaring for essentials; the rises are probably temporary, but they bite. In a country where most ordinary people live close to the edge, a few days without pay can send a person hurtling towards oblivion.
I don't claim to understand why Nigerians are revolting over the sudden and misguided decision by the government of Goodluck Jonathan to dramatically raise the basic price of petrol. In Nigeria, as in many African nations, government sets the price of petrol. In Nigeria, petrol prices have long been set well below market prices. At first, the subsidies for fuel were intended for the wealthy. Forty years ago, only the wealthy could afford a car, only the wealthy could even use any form of transport to travel on a regular basis. Rather than a subsidy for the poor, the freeze on fuel prices was intended to help the rich.
The strange history of fuel prices highlights the difficulties of analyzing what the protests portend. In the broadest (and ideal) sense, pegging fuel prices at market levels will promote more efficient use. That's good in the abstract. But in the real world of Nigeria, there are two problems with raising fuel prices abruptly. First, the effect on the poor — and that's most Nigerians — is awful. A decent government would take immediate, firm, and effective steps to mitigate, if not remove, any adverse impacts of the fuel increase on poor Nigerians. No such plan or actions are in the works.
---