Fiery South African youth leader suspended, but the fire remains (+video)
(Read article summary)
Suspension of ANC Youth League leader Julius Malema may soothe South Africa's political and economic elites. But guest blogger Zama Ndlovu says youths won't remain silent.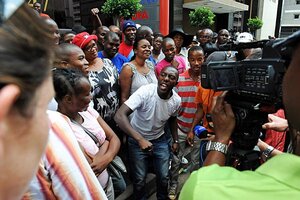 AP
Johannesburg, South Africa
Late on Saturday morning, in true African time, a ramrod Cyril Ramaphosa delivered a flinty speech that was not only a preamble to the ANC's verdict on youth leader Julius Malema, but a warning sign to the rest of the party: Ill-discipline will not be tolerated. By upholding the guilty verdict, the National Disciplinary Committee of Appeals stripped Malema of his power and with no real support outside of the African National Congress Youth League structures, and with the tax collector, public protector, and Special Investigative Unit closing in on him, it would take a miracle of biblical proportions to resurrect this cadre's political career from the tomb it's been chucked in.
But was the ANC's decision disciplining or silencing the ANC Youth League?
Before Julius Malema entered the political scene, there was very little public discourse on the acute socio-economic issues faced by a growing number of young South Africans today. After 18 years of political freedom, more than half of South Africans under the age of 25 remain unemployed -- among the highest jobless rates in the world. Many live idly with few prospects of ever being employed. The promise of education as the gateway to a better life remains questionable on a good day, as too few are able to meet the requirements necessary to enter into higher education institutions. For those who do qualify for university admission, the competition for a place in a university has intensified, as the country simply does not have enough institutions of higher learning. The bulk of South Africa's youth has been relegated to front row seats to watch a small portion of the country live Mandela's dream.
---