Nigeria: is the recent oil violence connected to upcoming elections?
(Read article summary)
Group known for bombing oil pipelines has allegedly returned to the Niger Delta, just in time for Saturday's gubernatorial elections in President Goodluck Jonathan's home state.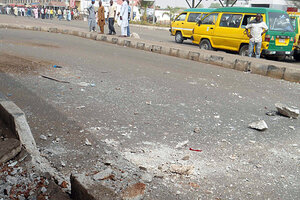 Reuters
• A version of this post ran on the author's blog, www.sahelblog.wordpress.com. The views expressed are the author's own.
The Niger Delta is back in the news, both for the alleged return of the Movement for the Emancipation of the Niger Delta (MEND – read a backgrounder here) and the upcoming gubernatorial elections in Bayelsa State, which was the site of a bitter primary election in November. Different sources give different views on how closely the recent oil violence is connected to Bayelsa's electoral calendar. But clearly the Niger Delta is facing renewed political tension and renewed violence at the same time.
Nigeria last held national elections, including gubernatorial contests, in April 2011, but since then various governors have faced court challenges to their legitimacy. Some have won and remained in office, but others have not, reports the Daily Post. On January 27, the Supreme Court removed five governors from office (for the back story, see the Washington Post coverage here).
---