Nokia publishes policy on African conflict minerals
(Read article summary)
Nokia says it will not buy mineral products that benefit armed groups or those engaging in human rights abuses. Guest blogger Curt Hopkins asks how they will implement their policy.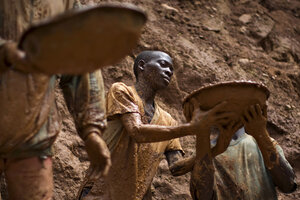 Finbarr O'Reilly/REUTERS/File
"Conflict minerals," those mined to support groups conducting armed conflict or engaging in human rights abuses, have been an issue since long before ReadWriteWeb first wrote about it in July of 2010. The mineral equivalent of blood diamonds, they include tantalum, tungsten, tin and gold, all of which are used to manufacture our electronics.
Nokia, the world's largest manufacturers of mobile phones, today published its policy on conflict minerals.
In a post on Nokia's "Conversations" blog, Ian Delaney lays out the company's public policy (PDF), which augments their supplier requirements.
Delaney boils the policy down to these four elements.
We prohibit human rights abuses associated with the extraction, transport or trade of minerals.
We also prohibit any direct or indirect support to non-state armed groups or security forces that illegally control or tax mine sites, transport routes, trade points, or any upstream actors in the supply chain.
We have no tolerance with regard to corruption, money-laundering and bribery.
We require the parties in our supply chain to agree to follow the same principles.
---