Rapper 50 Cent joins battle against Somali hunger
(Read article summary)
The multimillionaire rap star 50 Cent took a tour of a displacement camp inside Somalia to raise awareness on hunger. Does it help when celebrities do good?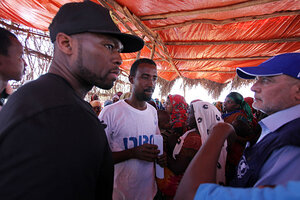 Challiss McDonough/WFP/Reuters
Move over Bono, Angelina Jolie, and George Clooney. Here comes 50 Cent.
The rap star from New York flew briefly to the Somali town of Dolo along the Ethiopian border to visit a refugee camp run by the United Nations High Commission for Human Rights. 50 Cent, or Curtis Jackson as he is also known, has committed to providing 1 billion meals to the hungry, and according to the Associated Press, he is donating 10 cents from the purchase price of every bottle of a new energy drink called Street King, which he promotes. Ten cents covers the cost of a typical meal provided by the World Food Programme, the UN's emergency food relief agency.
"What I am seeing is devastating -- these women and children have risked everything to come to this Somalia camp, just to get food," he said, in a statement released through the WFP. "They need our help."
In addition to his visit to Dolo, 50 Cent also visited the Nairobi slum of Kibera, billed as Africa's largest slum.
---