Will President Wade push Senegal toward an uprising?
(Read article summary)
Abdoulaye Wade's bid for a third term as Senegal's president has raised the possibility of a popular uprising or violence in a country previously seen as one of Africa's greatest success stories.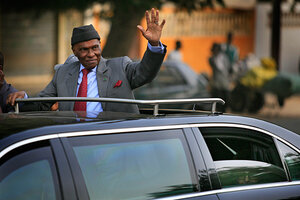 Gabriela Barnuevo/AP
• A version of this post appeared on the blog "Freedom at Issue." The views expressed are the author's own.
As Senegal prepares for a pivotal presidential election on Feb. 26, some citizens and outside observers are weighing the possibility of a popular uprising akin to last year's Arab Spring revolts, with large numbers of Senegalese taking to the streets in defense of their political rights. Another, even more troubling scenario would entail a violent postelection standoff between the entrenched incumbent and forces loyal to his would-be successor, as occurred a year ago in Côte d'Ivoire. The fact that such outcomes are even being discussed illustrates how far Senegal has fallen under the stewardship of President Abdoulaye Wade, who is seeking a third term in office.
Senegal is one of the few African countries that has never experienced a coup d'état, and it is often considered among the great postcolonial success stories with respect to its record of civilian rule. In Freedom House's Freedom in the World report, Senegal has been rated at least "partly free" since the mid-1970s, and even climbed into the "free" category during Wade's first presidential term.
Wade was quite popular at home and abroad when he first came to power. He had forged his reputation as an opposition leader during the two-decade presidency of Abdou Diouf, and faced arrest in the violent aftermath of the 1988 elections, which the opposition had denounced as fraudulent. His rise to the presidency as the candidate of the Democratic Party in 2000 marked a significant milestone for the country, which had known only two presidents since independence in 1960, both from the Socialist Party.
---