Diplomats meet in London to talk Somalia, but where are the women?
(Read article summary)
If women aren't part of the political process in Somalia, they can't be a part of the outcome, notes guest blogger Jina Moore.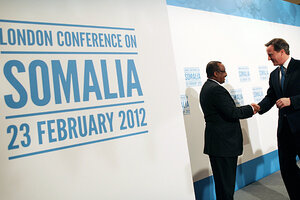 Peter Macdiarmid/Reuters
• A version of this post appeared on the blog jinamoore.com. The views expressed are the author's own.
Lots of powerful men – and a few powerful women, including the American secretary of state – are meeting in London to talk about the dire "security threat" that is now Somalia. Or, in the words of Britain's foreign minister, "the world's most failed state." (Because that's a rational metric...)
Nevermind that international interest in Somalia peaked only now that we've recognized that its internal strife could be an external threat – to us. Nevermind that this is a pattern repeated constantly in diplomatic rhetoric about countries all over the world. We're not suddenly discovering this idea, nor Somalia.
Pay attention, instead, to this good question: Where are the women?
It's a point raised not in any mainstream news article I've read this morning, but instead by the website Women's Views on the News. In an article there, Asha Ahgi Elmi, of Somalia's Transitional Federal Government, points out the obvious: "If women are not part of the process they cannot be part of the outcome."
---