Solar power: the fix for Africa's frustration with the grid?
(Read article summary)
As solar power becomes more affordable and efficient, it could spread in Africa, much in the way cell phones took over without widespread infrastructure, writes guest blogger Alex Thurston.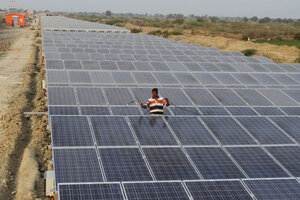 Ajit Solanki/AP
• A version of this post ran on the author's blog, www.sahelblog.wordpress.com. The views expressed are the author's own.
This is another post where I get myself into trouble by venturing into a new area – infrastructure, in this case – but this post from the environmentalist blog Treehugger caught my eye:
In Uttar Pradesh, one of India's poorest states, a pair of US-born entrepreneurs is creating a new model for energy delivery to villages far from the grid. The founders of Mera Gao Power build and operate solar-powered micro grids to provide low-cost lighting and mobile phone charging to village houses, giving many rural people access to both light and power for the first time in their lives.

[...]

Mera Gao Power's low energy design calls for just four solar panels for each system, which are sufficient to supply a village of 100 households with both light and mobile charging. And because most light is used at night, but generated during the day, banks of four batteries are used to store up to two days of power are also installed near the panels. Power is then distributed from the batteries to the other households in the village.
"Micro" strikes me as the key word in that passage.
Think you know Africa? Take our geography quiz.
If India, why not Africa?
The idea of using solar power in the global South generally – and Africa specifically – is not new. The UN was talking about it, and funding it, by the early 1990s:
---