Joseph Kony 2012: It's fine to 'Stop Kony' and the LRA. But Learn to Respect Africans.
(Read article summary)
Invisible Children's viral campaign to 'Stop Kony' is a powerful use of social media in activism. But by focusing on what Americans can do, they are undermining the role of Africans.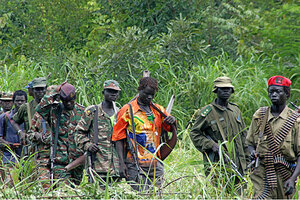 AP/File
This week's biggest Africa news isn't from Africa. It's from a massive online and social media campaign launched by the American advocacy group Invisible Children to capture indicted war criminal and Ugandan rebel leader Joseph Kony.
As with their previous campaigns Displace Me and How it Ends, Invisible Children launched Stop Kony 2012 on Tuesday to mobilize the next generation of young Americans to help end the conflict in northern Uganda – except this time, they called on their mostly white, privileged, and educated youth followers to get involved through web-activism on their Facebook, Twitter, Tumblr and YouTube accounts.
It all begins with a remarkable 30-minute video highlighting the instantaneous and hyper-connected world we live in. Founder Jason Russell narrates, stating "there are more people on Facebook than there were in the world 200 years ago" and that "humanity's greatest desire is to belong and connect." He may be right. In just two days, it has been viewed 32 million times and quickly grabbed the attention of personalities such as Oprah Winfrey, Van Jones, Sean Combs and Rihanna.
---