Crisis mapping: How Invisible Children's Kony 2012 campaign changed advocacy
(Read article summary)
Invisible Children's Kony 2012 campaign includes an early warning radio network and crisis map that help civilians prepare for attacks by Joseph Kony's Lord's Resistance Army, guest blogger Patrick Meier says.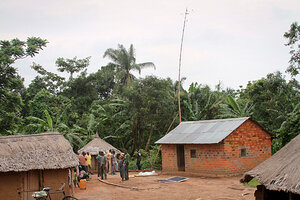 Invisible Children/AP/File
* This post originally appeared on Patrick Meier's tech blog, irevolution.net, on Sept. 29, 2011. The Monitor has reposted it with permission of the author.
My colleagues at Resolve and Invisible Children have just launched their very impressive Crisis Map of LRA Attacks in Central Africa. The LRA, or Lord's Resistance Army, is a brutal rebel group responsible for widespread mass atrocities, most of which go completely unreported because the killings and kidnappings happen in remote areas. This crisis map has been a long time in the making so I want to sincerely congratulate Michael Poffenberger, Sean Poole, Adam Finck, Kenneth Transier, and the entire team for the stellar job they've done with this project. The LRA Crisis Tracker is an important milestone for the fields of crisis mapping and early warning.
---