How to respond to Boko Haram's evolving threat to Nigeria
(Read article summary)
Guest blogger G. Pascal Zachary argues that Nigeria must treat the Islamist militant group Boko Haram as a homegrown threat, fueled by decades of unaddressed regional grievances.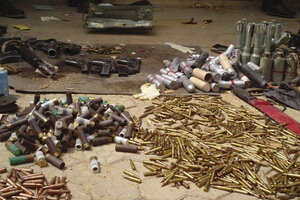 Salisu Rabiu/AP
• A version of this post appeared on the blog "Africa Works." The views expressed are the author's own.
J. Peter Pham released a timely paper this week on Boko Haram, tracing the history of the insurgent Nigerian movement in useful detail. Pham, who directs an Africa studies program at the Atlantic Council, concludes that the Nigerian government should "deal forthrightly with the threat" of violent Islamic extremism.
Pham is right. At the very least, Nigeria should, and the US government should help. The question is how. What objectives should the Nigerian government have in addressing Boko Haram? Pham offers few clues on specific policy options open to a Nigerian government that, to put it politely, has badly handled the Islamicist threat over the past decade. Pham provides a few disturbing reasons why. First, elements in the Nigerian state may be covertly helping Boko Haram, which of course would make reducing acts of terror sponsored and carried out by the group more difficult. And Pham cites the emergence of critical leaders of Boko Haram who possess non-Nigerian roots. He singles out Chadian-born Mamman Nur, who is believed to have trained with al-Shabab in Somalia and, according to Pham, returned to Nigeria in 2011 — in time to direct a deadly attack on a United Nations building in Abuja.
---