Mali gets interim president. What's on his agenda?
(Read article summary)
Mr. Traore takes the reins of a challenging Mali, facing post-coup reorganization, a separatist war in the north, and humanitarian issues like refugees and food insecurity, writes a guest blogger.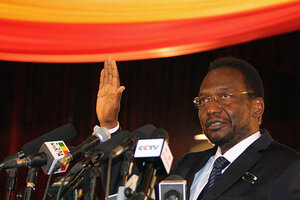 Harouna Traore/AP
• A version of this post ran on the author's blog, www.sahelblog.wordpress.com. The views expressed are the author's own.
Today, former president of the national assembly and one-time (and future?) presidential candidate Dioncounda Traore will be sworn in as president of Mali's interim civilian government. This marks the official end of a military coup that took place on March 22, although many administrative details – namely who controls what and how – remain to be worked out. Before the coup, Mali had scheduled elections for this month. One of Mr. Traore's main tasks is to organize new elections. He has been given forty days to do so.
Traore takes the reins of a country facing many interlocking problems. In addition to the challenge of post-coup reorganization, there is the separatist war in the north, where a proliferation of rival armed groups is making the situation murkier by the day. Then there are overlapping humanitarian issues, especially refugee flows and food insecurity.
Much coverage of the transition is focusing on Traore's biography and how he is perceived as an individual by Malians. This is appropriate and relevant, but attention to his character should not obscure the structural challenges inherent in his position. Anyone stepping into this post now would struggle to fulfill the almost impossible expectations connected with it, especially the goal of organizing elections in less than six weeks.
---