Killing the messenger: Islamist insurgency widens in Nigeria
(Read article summary)
A suicide bombing at a venerable newspaper suggests that journalists could now become routinely targeted by Boko Haram, says guest blogger G. Pascal Zachary.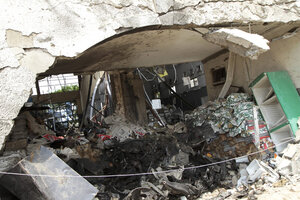 Afolabi Sotunde/REUTERS
• A version of this post appeared on the blog "Africa Works." The views expressed are the author's own.
Now the terror bombings in Nigeria are targeting the messenger: the offices of the venerable This Day newspaper.
"The suicide bomber came in a jeep and rammed a vehicle into the gate," said Olusogen Adeniyi, chairman of the This Day editorial board. "Two of our security men died, and obviously the suicide bomber died too."
This Day is broadly supportive of the Nigerian government and its president, Goodluck Jonathan. The bombing signals an escalation of the Islamic insurgency in Nigeria. The newspaper's offices in the northern city of Kaduna also were bombed, This Day reported.
The targeting of journalists can only be an attempt at silencing critics of Islamic fundamentalism – and punishing those who promote intelligent debate over Nigeria's future.
[Update: Unknown militants attacked a worship service at Bayero University early on Sunday, killing at least 18 people, and also at Gombe State University in northern Nigeria a few days before. Overnight, militants killed four people at a Christian church in the northern town of Maiduguri, where the Islamist group Boko Haram was founded.]
---