Nigeria's Goodluck Jonathan faces first significant political crisis
(Read article summary)
A spirit of cooperation among Nigeria's elites seems scuttled as blistering critique of Mr. Jonathan is leaked by former president.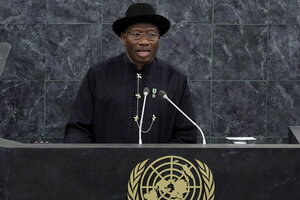 Richard Drew/AP/File
A version of this post originally appeared on the Africa In Transition blog. The views expressed are the author's own.
On Dec. 2, former Nigerian President Obasanjo sent a letter to current President Goodluck Jonathan cataloging the shortcomings of the latter's administration.
Eighteen pages in length, it is a thoroughgoing indictment of the Jonathan administration, cataloging shortcomings ranging from security to corruption to the president's leadership of the ruling Peoples Democratic Party.
Altogether, Mr. Obasanjo's letter is a familiar critique of Nigerian governance under Jonathan, if perhaps more bluntly stated than is usual in public among Nigeria's establishment.
Though ostensibly private, the letter soon appeared in the media, and it looks as though it was Obasanjo's intention that it should eventually become public.
In a letter dated Dec. 20 that appeared in the media on Dec. 22, Mr. Jonathan replied. While Jonathan said he would not provide a point-by-point response, his reply is lengthy and detailed. His bottom line: "…you have done me grave injustice with your public letter in which you wrongfully accused me of deceit, deception, dishonesty, incompetence, clannishness, divisiveness, and insincerity, amongst other ills."
The two letters, read together, constitute a debate on the state of Nigeria.
There are very few points of agreement between the two men. Jonathan flatly denies some of Obasanjo's most pointed accusations, e.g., that the sitting president has developed a "security watch list" with a thousand names on it.
Jonathan notes that Obasanjo's claim that almost $50 billion in oil revenue is unaccounted for is "spurious," and based on a letter from the governor of the Central Bank of Nigeria, Lamido Sanusi, that (per Jonathan) its author now says is "misconstrued."
---