A Mexican Sweet 15 – a bluejean girl becomes a woman
In the Mexican desert, full of hardship and dust, the traditional quinceañera is a chance to be a princess for a day.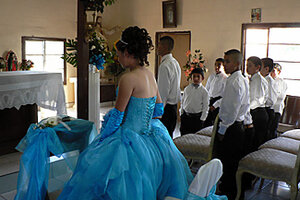 Michelle Nijhuis
Ejido Luis Encinas Johnson, Sonora, Mexico
The day of the quinceañera dawns raw and blustery, and clouds of dust scud along the main road of this quiet village. But outside the cinderblock church, and on the well-worn basketball court in the center of town, young girls are already threading long garlands of handmade blue paper flowers, and their older brothers are scaling ladders to stretch the strings overhead.
Today is Seraya Butron Rodriguez's 15th birthday, and like so many young Latin American girls, she's been dreaming of her quinceañera, or "sweet 15" party, for as long as she can remember. Part sacred, part secular, the quinceañera marks the entrance of a young woman into adult society, and is thought to mix indigenous traditions with those of Spanish Catholic missionaries.
While customs vary by country, region, and class – quinceañeras are sometimes lavish affairs, with limousines and legions of jeweled attendants – the events are always carefully choreographed. Here, in this tiny ejido, or communal-farm village, less than an hour's drive south of the US border, the customs are modest, but the preparations are as exacting as a wedding's.
I've been visiting this ejido sporadically for years now, first as a journalist, later as a curious outsider and language student, finally as a friend. The town, with its fewer than 200 souls and simple brick-and-plywood houses, sits in the desiccated delta of the Colorado River, surrounded by salt-laden fields and miles of mud flats. Farming is rarely profitable, so people here work at shrimp farms along the Gulf of California, pick and bundle green onions in nearby fields, or endure a two-hour bus ride each way to shifts at "la Sony," the Sony factory in the border city of Mexicali. Many leave for better prospects north of the border.
---