Chávez sees U.S.-Colombian war plans
But critics say Venezuela's president is trying to distract from economic problems at home.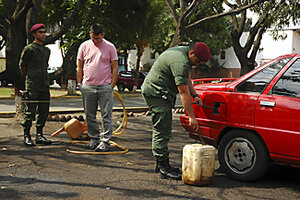 Luis Robayo/Reuters
A Venezuelan National Guard sergeant looks across the Táchira River that marks the Venezuelan-Colombian border. On the other shore, a man on a bicycle is shaking his fist and shouting: "You are going to kill us all from hunger. Let us work!"
The sergeant shrugs and returns to his border outpost under a shade tree.
Venezuelan President Hugo Chávez has ordered the National Guard to crack down on the smuggling from Venezuela to Colombia where food and fuel fetch prices at least twice as high. Thousands of people along the 1,300-mile border live off the illegal trade.
But the anger expressed by the man on the bicycle reflects a broader tension building between Bogotá and Caracas that some analysts say is being stoked by Mr. Chávez to deflect attention from problems at home.
---