Exxon fights Chávez' Venezuela for compensation in courts
Legal challenge could raise price for nationalization moves by Ecuador, Russia, and Bolivia.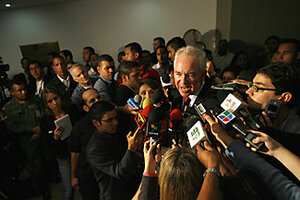 Jorge Silva/Reuters
In winning court orders to freeze up to $12 billion of Venezuela's global assets, Exxon Mobil Corp. has mounted the boldest response yet against the resource nationalism that has swept Latin America in recent years.
Announced by Exxon Thursday, the injunction represents the latest chapter in a battle between Venezuelan state oil company, Petróleos de Venezuela (PDVSA), and the US oil giant, which began after Venezuela took a majority stake in some of the country's largest oil projects last year. Exxon refused the new terms at that time.
The legal fight on compensation is expected to take years, analysts say. For now Venezuela, which has dismissed the latest move as "judicial terrorism," is expected to appeal. But the political ramifications are immediate.
While analysts say Exxon's victory could bolster sympathies for Venezuelan President Hugo Chávez in the face of what he calls "US imperialism," they say the wider impact will be a strike against efforts by oil and gas-producing countries to renegotiate contracts as commodities prices soar.
---