Venezuelan FARC victims to Chávez: 'What about us?'
Many families of those kidnapped near the border with Colombia say President Hugo Chávez has neglected them in favor of high-profile Colombian victims.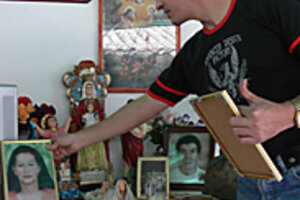 SIBYLLA BRODZINSKY
In the past couple of months, Venezuela's populist President Hugo Chávez has spent an extraordinary amount of time and energy negotiating the release of high-profile hostages held by leftist rebels in neighboring Colombia.
His ideological kinship to the Revolutionary Armed Forces of Colombia (FARC) played a key role in last month's release of Clara Rojas, an aide to former Colombian presidential candidate Ingrid Betancourt, and former congresswoman Consuelo Gonzalez. Both had been held for more than five years, and it was the most important hostage release in the Colombian conflict since 2001.
But Venezuelans living near the border with Colombia have been suffering from the presence of the FARC for years, and a growing number of them are complaining that Chavez's affinity with the rebels is causing him to turn a blind eye to the problem within his own borders.
"I am happy for [recently released Colombian kidnap victims] and their families," says Juan Pabón, whose mother and brother have been held captive for more than four years. "But what about us? The entire international community is watching the hostage situation in Colombia, but nobody sees us."
Mr. Pabón believes that Colombia's insurgent groups that operate on the border have been holding his mother and brother. He says they are demanding $465,000 in ransom. Informants have told Pabón that they are being held either by FARC or by the National Liberation Army (ELN), another Colombian leftist group.
---