Chávez set to take Castro's mantle
Venezuela's fiery president gears up to become Latin America's next leftist icon.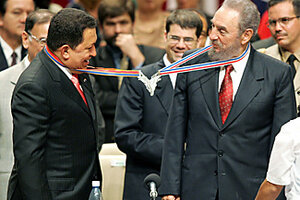 Claudia Daut/Reuters/File
When Cuba's erstwhile leader Fidel Castro fell ill a year and a half ago, the first video that aired was of Venezuela's leftist President Hugo Chávez sitting at his bedside. Since then, Mr. Chávez, a former lieutenant colonel, has depended on Mr. Castro's revolutionary know-how, playing up the role of the dutiful son.
But now that the most potent symbol of the Latin American left has announced his retirement, Chávez is poised to inherit the political and symbolic mantle – and all the romanticism it entails.
It is in a different world context, and it's "neoliberalism," not capitalism, that stokes leftist passions today. Still, some analysts say Venezuela's vast oil wealth positions Chávez to take his social movement further than Castro could during his rule.
"Chávez has already achieved a certain level of influence, but with Fidel out of the scenario he becomes the only reference point for the symbol of the leftist revolution," says Alfredo Keller, an independent pollster in Caracas. "But he is trying to build something new, a kind of third world front against the first-world, and has a lot of money to do it."
For now, Chávez says Castro is still the captain of the revolution. "Fidel is not giving up or abandoning anything," said Chávez, who has called Castro his "father." "Fidel always was in the vanguard. Men like Fidel never retire."
Propping up Cuba with oil cash
---