Raul Castro, the pragmatist, takes Cuba's helm
The National Assembly elected Fidel's brother Sunday to be president in a vote that signals minor changes.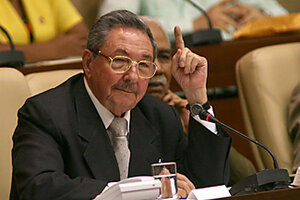 Ismael Francisco/Prensa Latina/AP
In selecting Raul Castro as the new president of Cuba Sunday – after Fidel Castro resigned this past week after nearly 50 years at the post – Cuba's power structure chose continuity and consistency.
Raul Castro has effectively held the job for the past 19 months, since his brother Fidel Castro underwent abdominal surgery, with little disruption politically or socially. Coming from the same ideological fold, Raul created the Cuban Revolution alongside his brother and has been his "right-hand man" ever since.
Raul Castro is also known as a pragmatist and delegater, traits that fit his personality, analysts say. But, they note, he doesn't command the same type of support that his brother has for a half century.
Cuba experts expect his presidency to be marked by a collaborative approach that draws on the expertise of those around him, including a rising cadre of younger leaders. But on Sunday, none of those leaders moved up the ladder. In fact, hard-line communist party ideologue Jose Ramon Machado Ventura was named first vice president, or Cuba's No. 2.
While no one expects much change, if any, on the political front, the new government is expected to inch toward economic reforms that many consider necessary to the viability of the island nation.
"Symbolically there is a sense that they will be in good economic hands managerially," says Susan Eckstein, a professor at Boston University and author of "Back from the Future: Cuba Under Castro."
Many expect the first economic changes to take place in the agriculture sector. Reforms include raising prices on products for farmers to increase production of milk and beef and give them legal rights to their own land.
---