Mexico's oil output falls, Pemex needs cash infusion
Should the national oil company allowing private investments? Critics worry about foreign control.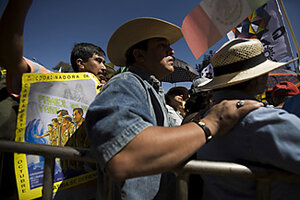 Alexandre Meneghini/AP
Oil output in Mexico, the third-biggest supplier to the US, is declining, and the state company Petroleos Mexicanos (Pemex) lacks the technology to explore for new reserves. For many the answer seems simple: more capital.
But now that senators have begun debating ways to attain that capital – a top priority of President Felipe Calderón – resistance has mounted, particularly to the idea to allowing in private enterprise.
In no place is there more opposition than along the industrial corridor in this resource-rich, steamy stretch of Veracruz State. "This oil is from here, and it belongs to us," says Francisco Lopez Martinez, who inspected oil barges at Pemex for 36 years before retiring this year.
The attitudes of residents in the neighborhood Oct. 24 in Coatzacoalcos, where lines of homes are almost entirely occupied by the engineers, mechanics, and computer repair personnel employed by Pemex's plentiful plants here, underscore President Calderón's biggest conundrum: Pemex is flagging, but the country is unlikely to do anything significant about it.
---