Mayor in Brazil transforms 'deadliest' town
It has fallen from sixth to 298th on the country's Violence Map.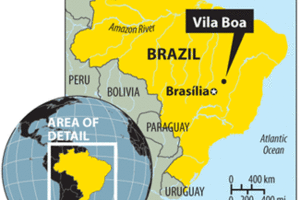 scott wallace -staff
When he took office in 2004, Mayor Waldir Gualberto de Brito knew swift action was needed to bury the town's reputation as the most violent place in Brazil.
The Violence Map, a periodic state-sponsored study, named Vila Boa the sixth-deadliest town in the country from 2002 to 2004.
Over the next three years, it fell to 298th.
Walking around this sleepy town of 4,300 people today, it is hard to imagine that anything dangerous happens here. Goats and horses walk the streets; bicycles outnumber cars.
Crime has fallen across Brazil in recent years, thanks to an improved economy, tougher police presence, and restrictions on guns and alcohol.
While these factors have helped Vila Boa – which is 100 miles northeast of Brasília, the capital – many also attribute the town's drastic transformation to Mayor de Brito's efforts to tackle the causes of violence, rather than violence itself.
"The priority was making people's lives better," de Brito says. "I knew that if we improved the quality of life, then we'd reduce crime."
De Brito, who has showered the town with public works programs and social services, says his first aim was to implement public policies designed to "help raise self esteem and give people hope."
"I think public administrators need to address the problems that lead people into crime," he adds.
Under his tenure, the town has installed a new drainage system to stop recurring floods, opened a second health clinic, and paved almost three miles of streets, raising the area of paved roads to 90 percent from 65 percent.
---