Colombia's cross-border strike on FARC irks neighbors
Colombia forces killed a top rebel leader and several others in an airstrike on guerrillas based in Ecuador this weekend.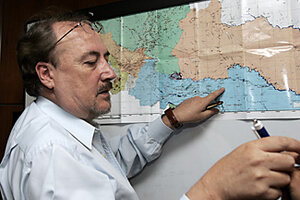 Dolores Ochoa/AP
Tensions in the Andes are running high after Colombia launched an airstrike on leftist rebels based in neighboring Ecuador over the weekend.
Colombia, a staunch US ally, says it never violated Ecuador's sovereignty in the operation that killed 17 rebels, including Raúl Reyes, the most senior rebel ever to be killed in combat in the more than 40 years since the rebels rose up against Colombia's government.
But Ecuadorean President Rafael Correa recalled his ambassador to Colombia and said that Ecuador "will not allow any more offenses by the Colombian government."
He also warned such actions might result in the "ultimate consequences."
Venezuelan President Hugo Chávez, who considers Mr. Correa an ally in his efforts to unite Latin American nations against the US, issued a public warning to Colombia's conservative president, Álvaro Uribe.
"You had better not get the idea of doing this on our territory because it would be a cause for a war," said Mr. Chávez.
Relations between Mr. Uribe and Chávez soured last fall over the Venezuelan leader's efforts to secure the release of rebel-held hostages.
The strike will make reconciliation harder, say analysts.
Colombia has not responded to Chávez's comments but said it would reply to Ecuador's formal protest, defending the action of its military.
"Colombia did not violate sovereignty but acted according to the principle of legitimate defense," the Colombian Foreign Ministry said in a statement Sunday.
Under Uribe's security policies, rebels have been driven to remote, rural areas of Colombia and have seen their ranks slashed by desertions, casualties, and captures.
---