Venezuela, Ecuador mass troops on Colombia border
The countries sent troops to protest Colombia's killing of a FARC leader in Ecuador.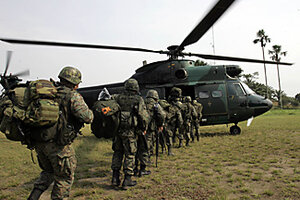 Dolores Ochoa/AP
Ecuador and Venezuela say they are moving thousands of troops to Colombia's borders, a day after Colombian forces killed a leftist rebel leader in Ecuadorean territory. Colombia later charged that high-ranking Ecuadorean officials met recently with the slain rebel, Raúl Reyes, to accommodate the guerrillas' presence there.
The developments raised tensions in a region that has been on edge in the several months since Colombian President Álvaro Uribe and Venezuela's Hugo Chávez had a bitter falling-out. Mr. Reyes was the second-ranking commander of the Revolutionary Armed Forces of Colombia, or FARC.
At a news conference late Sunday, Colombian National Police director Oscar Naranjo said that files in three laptop computers recovered in a jungle camp a mile inside Ecuador, where Reyes's body was found, show that the rebel met Jan. 18 and Jan. 28 with Ecuadorean Interior Minister Gustavo Larrea to discuss several issues, including stationing Army and police officers "who were not hostile to the FARC."
---