Toronto's condo market booms
Lagging US home sales haven't hit the Canadian city's real estate market – yet.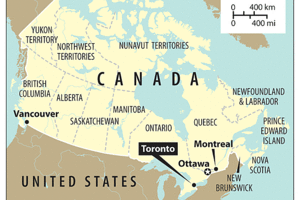 Rich Clabaugh
The housing market in much of the United States may be moribund, but in Toronto, something of a boom mentality still exists.
In March, several hundred Toronto residents braved the cold to line up before the opening of the sales office of a new condo project. Certified checks in hand, they wanted to make sure they got their choice within Aura, a proposed 75-story residential tower scheduled to go up downtown.
This isn't the first time condo sales debuts have drawn large crowds. In November 2007, speculative buyers waited patiently beside heat lamps to place deposits on another 80-story slab. Despite a last-minute price hike – apartments advertised for $2 million catapulted to $8 million – sales remained heavy.
Prices of real estate in Toronto have risen about 5 to 6 percent a year for the past several years, according to the Toronto Real Estate Board. The average condo now sells for $394,000 Canadian (US $390,446).
In 2008, 21,000 condo units are expected to hit the market and an additional 35,000 units are under development, according to Urbanation, a firm that tracks condo development in Toronto. The city is second only to the New York City region, the epicenter of condo building in North America.
But given how closely linked Toronto's economy is to trade with the US, some officials question how long the city's housing market can shrug off the effects of a downturn south of the border.
---